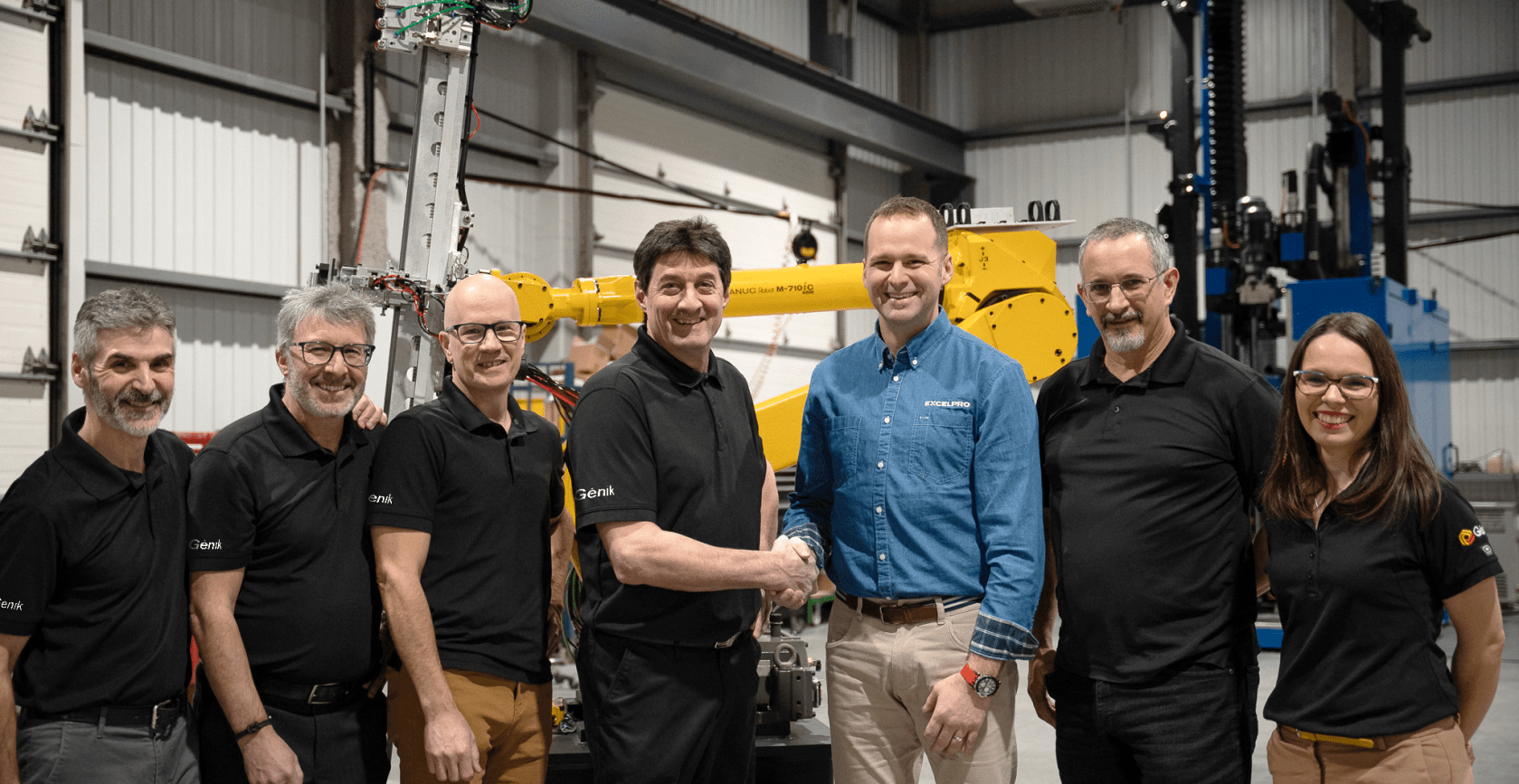 March 6, 2023
ROBOTICS NOW PART OF EXCELPRO'S SERVICES
The Excelpro Group announces an important acquisition, namely Génik, the largest company in the design and manufacturing of custom robotic and automated equipment in Quebec. The two companies will now collaborate to continue their respective mission of creating the industry of tomorrow.
With this transaction, Excelpro consolidates its leadership position and passes the 500 employees mark. This transaction is the sixth in three years for the company whose head office is located in Trois-Rivières. The announced merger gives Excelpro's slogan "multiplied value" its full meaning.
"I am really proud of this acquisition which allows us to amplify the robotic and mechanical parts as well as the artificial intelligence of our offer. Excelpro has always relied on the complementarity of its services when making acquisitions. The arrival of Génik definitely opens many doors for us to continue creating the manufacturing world of tomorrow." says Patrick Charette, CEO of Excelpro.
This acquisition was a natural fit since both companies share the same values and vision for the future. Moreover, to ensure the continuity of this alliance, two key employees who have been with Génik for several years, Patrick Gariépy and Julie Boisvert, have been given a place in Génik's shareholder group.
With a team of nearly 120 employees, Génik aims to create collective wealth through automation.
"What is important to us is to find the best solution for and with our clients to ensure their sustainable growth. It is thanks to our unique problem-solving methodology, the G-KDMTM, that we are able to do this. For us, joining the Excelpro family is a logical and beneficial step for all. Our visions and values being in the same direction, our impact will only be greater as a driver of automation in Quebec. We won't just be creators, but multipliers of wealth." says Donald Turcotte, President and founder of Génik.
"We believe that with Génik we now have all the strength and skills to move Excelpro even further into the industrial automation and electrical market in Canada, while maintaining our spirit of proximity with our clients, suppliers and partners." concludes Mr. Charette.
About Génik
Founded in 1992 in Saint-Jérôme, Génik solves production challenges by designing and manufacturing high-quality custom robotic and automated equipment, integrating vision and artificial intelligence when needed. Their complete vertical approach, driven by their intrinsic values of determination, partnership and know-how, allows them to carry out all stages of equipment development: from preliminary analysis, through design and manufacturing, to installation and start-up of the equipment at the client's site.
____
On the picture, from left to right: Donald Turcotte, CEO, Génik, Marc Bergeron, VP of Operations, Génik, Daniel Lemay, Account Director, Génik, Marc Lussier, Technical Advisor, Génik, Patrick Charette, CEO, Excelpro, Patrick Gariépy, VP of Strategies, Génik, Julie Boisvert, VP of Culture & Organizational Performance, Génik.