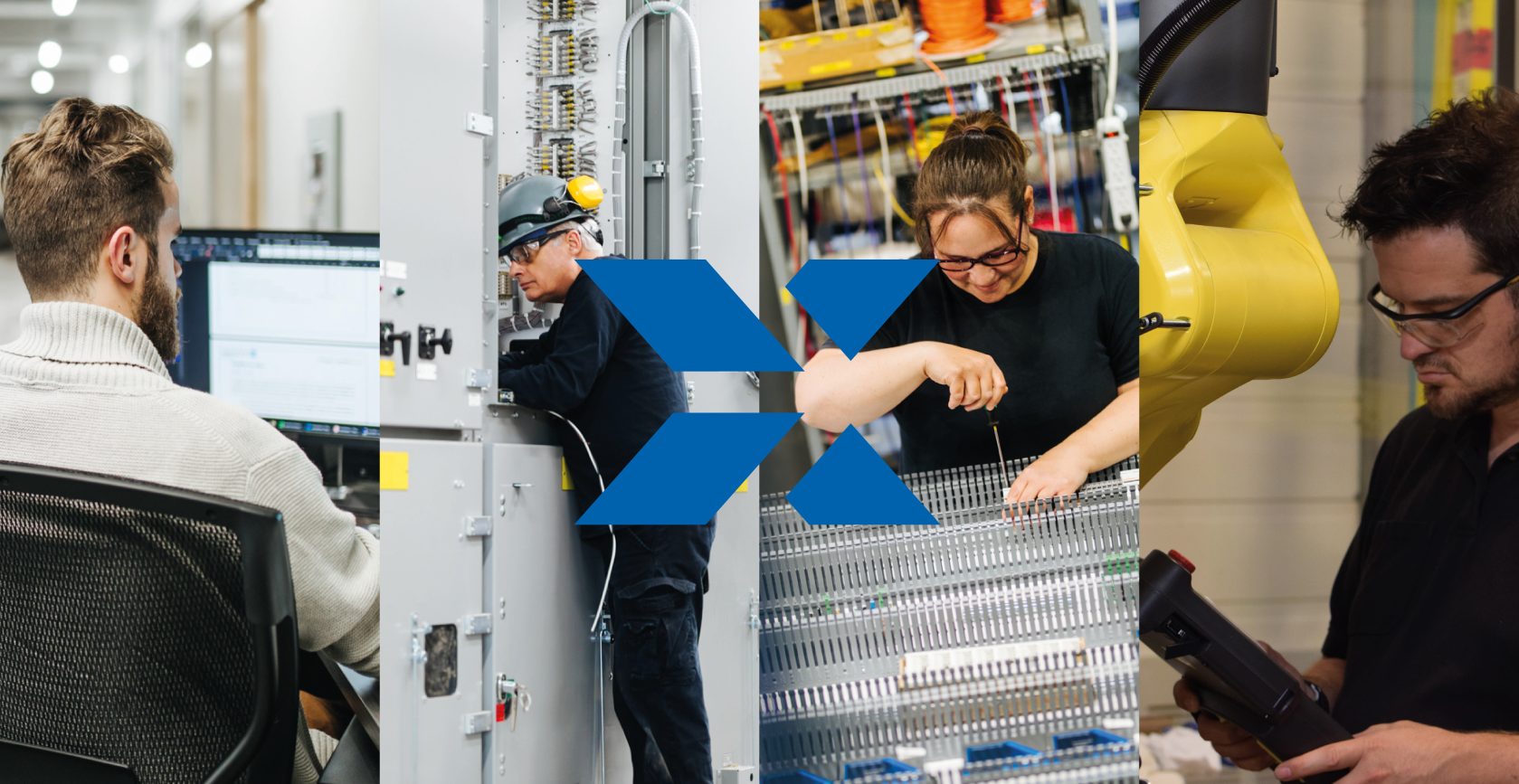 The Excelpro Group has more than 500 people passionate about control and industrial electrical.
A team specialized as an automated systems integrator, an electrical contractor, a control panel manufacturer with an expertise in robotic and industrial mechanical.
We have offices in Drummondville (Multico), Montreal, Quebec City, Sorel-Tracy, Saint-Jérôme (Génik), Trois-Rivières, and Kanata in Ontario, and our mandates extend to the international.
For more than 30 years, we have contributed to the success of our clients' projects by providing them with a range of complementary services using the latest technologies. We offer flexible and innovative solutions allowing companies to optimize their processes and operations. With the experience and knowledge of its teams, Excelpro generates not only an added value, but a multiplied value.
Multiplied Value
Excelpro. It's a group of strengths and the strength of the group.
It's all the knowledge, talents, and values combined into a single energy.
Excelpro Automation includes our automated systems integration services and covers all elements of an industrial automation project, from engineering, programming, machine safety and IT industrial.
Excelpro Electrical covers everything related to construction work in the industrial sector.
Excelpro Manufacturing groups all design and manufacturing services related to control panels, as well as our Multico divison, including our industrial mechanical specialists.
Génik, member of the Excelpro Group, solves production challenges by designing and manufacturing high-quality custom robotic and automated equipment, integrating vision and artificial intelligence when needed.
Excelpro Group; it's a mesh as complex as robust. Partners who work together to generate not only added value, but Multiplied Value.
Our mission
Creating tomorrow's industry.
The Excelpro advantage
We have a wide range of expertise in the integration of new systems and the migration or upgrade of existing control platforms. We have the team, we have the knowledge, and we are recognized by manufacturers as a qualified, professional and responsible partner that they recommend themselves.
A wide range of diversified services in perfect synergy to create a multiplied value for our clients
Detail engineering leading up to control panel building and installation of automated systems
Fabrication of CSA- and UL-certified panels (power up to 1600A), with control, interface and instrumentation
Skids electrical assembly (power connection, instrumentation, and control in shop)
Manufacture of ergonomic operation consoles
Complete electrical installation (A-Z):

Temporary work site installations
Service entrance (medium and low voltage)
Power distribution in buildings
Lighting (interior and/or exterior)
Feeders for production equipment
Connection of motors, control, instrumentation, and networks

Machine safety (risk analysis, risk reduction measures, equipment adaptation, etc.)
Industrial networks
Industrial information technology (digitization, handshaking)
Programming (PLC, DCS, operator interface, SCADA, SQL)
Design, manufacture, moving and installation of production equipments (industrial mechanical)
Instrumentation
Thermography
Industrial support and maintenance (electrical, control and mechanical)
Robotic
E-House manufacturing
Our values
At Excelpro, we share the will to excel and to help others excel. It's between our team and our clients, for the ever-greater rise of the industry.
We always keep in mind that our job is to make a difference, to bring added value, and thus to contribute to increasing the overall productivity of our clients.
We live our values daily in everything we do.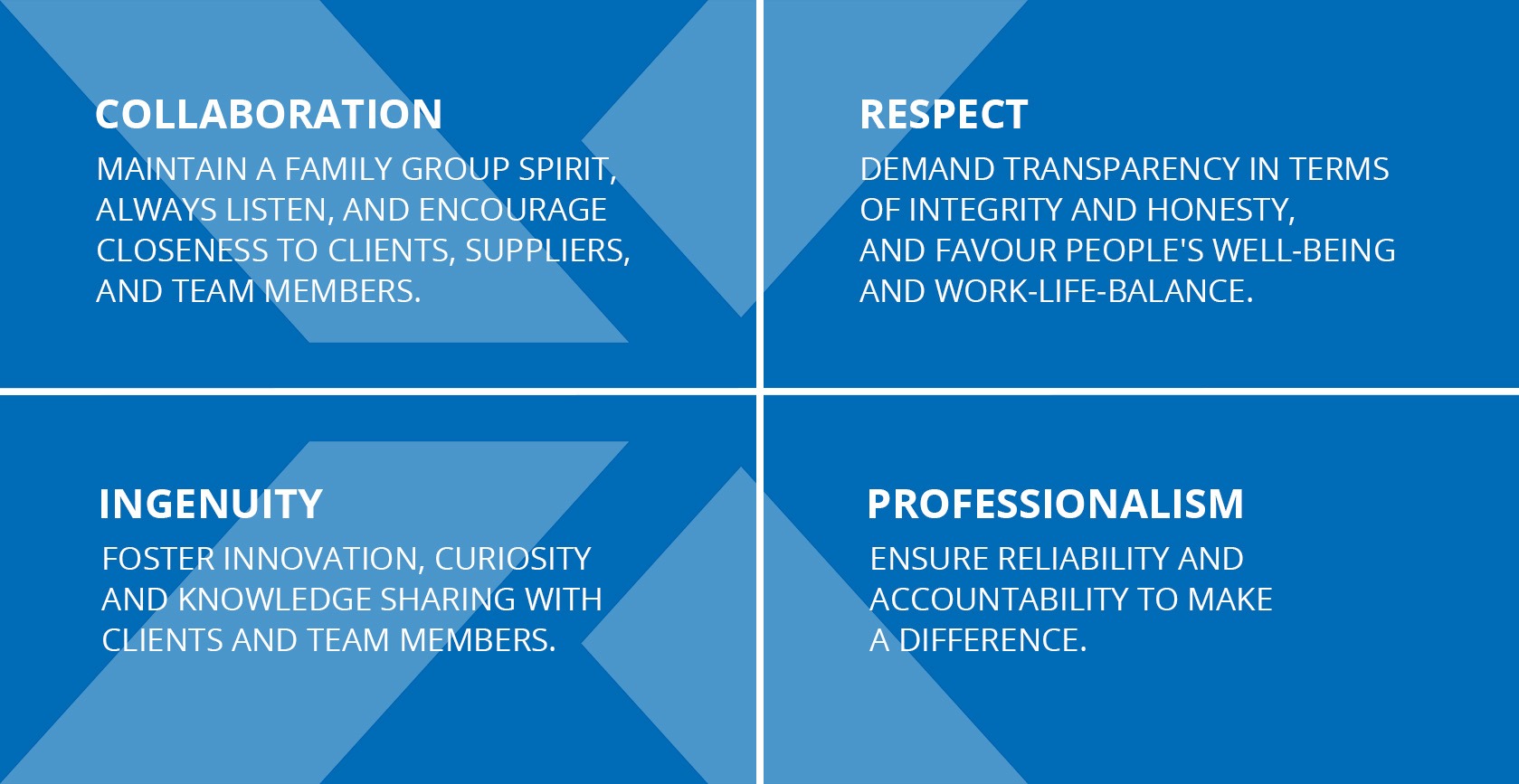 Our history
1989 – Automation Mauricie Inc. Foundation
In order to palliate a missing element in automation in the region, an entrepreneur founded Automation Mauricie in Trois-Rivières, a firm specialized in consulting services and integration of automated systems.
1989 – Excelpro Foundation
Two partners found Excelpro, a company located in Shawinigan that specializes in industrial electrical. Excelpro symbolizes the EXCELlence and the PROductivity of a team, of the services offered and of the working methods aiming at increasing efficiency.
2000 – Automation Mauricie Inc. creates CPMI (Contrôle de Procédé et Maintenance Industrielle) division
This new division works as an electrical contractor specialized in instrumentation and control, allowing Automation Mauricie Inc. to offer complementary services.
2013 – Acquisition of two electrical contractors in La Tuque
To better serve the industrial clients in the Haute-Mauricie region, Excelpro acquires two local electrical contractors, La Tuque Électrique and H&R Électrique.
2014 – Automation Mauricie Inc. changes its name to Neksys
In order to give a stronger brand image to the company, the name Neksys is chosen.
2015 – Merger of Neksys and Excelpro
The merger of the two companies comes primarily from a need to renew the management of Neksys's electrical division, CPMI, as well as a desire on the side of Excelpro to develop its automation division. This merger allows clients of both companies to access, through a single entity, the entire range of automation and industrial electrical services.
2020 – Acquisition of I.S.I. Controls
I.S.I. Controls specializes in automation and offers control system integration services, industrial processes and machine safety, since 1993. I.S.I. Controls provides an expanded range of knowledge in industrial computer technologies, enhancing the company's overall offering. This acquisition brings the number of employees to 235.
Read more >
April 2021 – Acquisition of AIA Automation
AIA Automation specializes in industrial automation and IT, in mechanical design and machine safety, since 1987. This acquisition brings the number of employees to 275.
Read more >
June 2021 – New brand identity
The expansion of the company leads Neksys-Excelpro to get a new brand identity and to come together under a single identity, Excelpro.
Read more >
October 2021 – Acquisition of Envitech Automation
Envitech Automation specializes in the design, manufacturing and testing and in the certification of high-quality electric control panels. This acquisition allows to add the manufacturing service in Montreal and brings the number of employees to 325.
Read more >
May 2022 – Acquisition of Conrad Lavoie Electrical
Excelpro continues is growth and is reinforcing its position as a leader in automation and industrial electrical by acquiring Conrad Lavoie Electrical. This Sorel-based company, well known for its industrial electrical services, joins the Excelpro's Group.
January 2023 – Acquisition of Multico Electrical 
Excelpro acquires Multico Electrical. Based in Drummondville, this company is well known in the agriculture industry for the quality of its products and its expertise in designing and manufacturing of custom control panels.
March 2023 – Acquisition of Génik
Excelpro acquires Génik. Based in Saint-Jérôme, this company solves production challenges by designing and manufacturing high-quality custom robotic and automated equipment, integrating vision and artificial intelligence when needed. Their complete vertical approach, driven by their intrinsic values of determination, partnership and know-how, allows them to carry out all stages of equipment development: from preliminary analysis, through design and manufacturing, to installation and start-up of the equipment at the client's site.