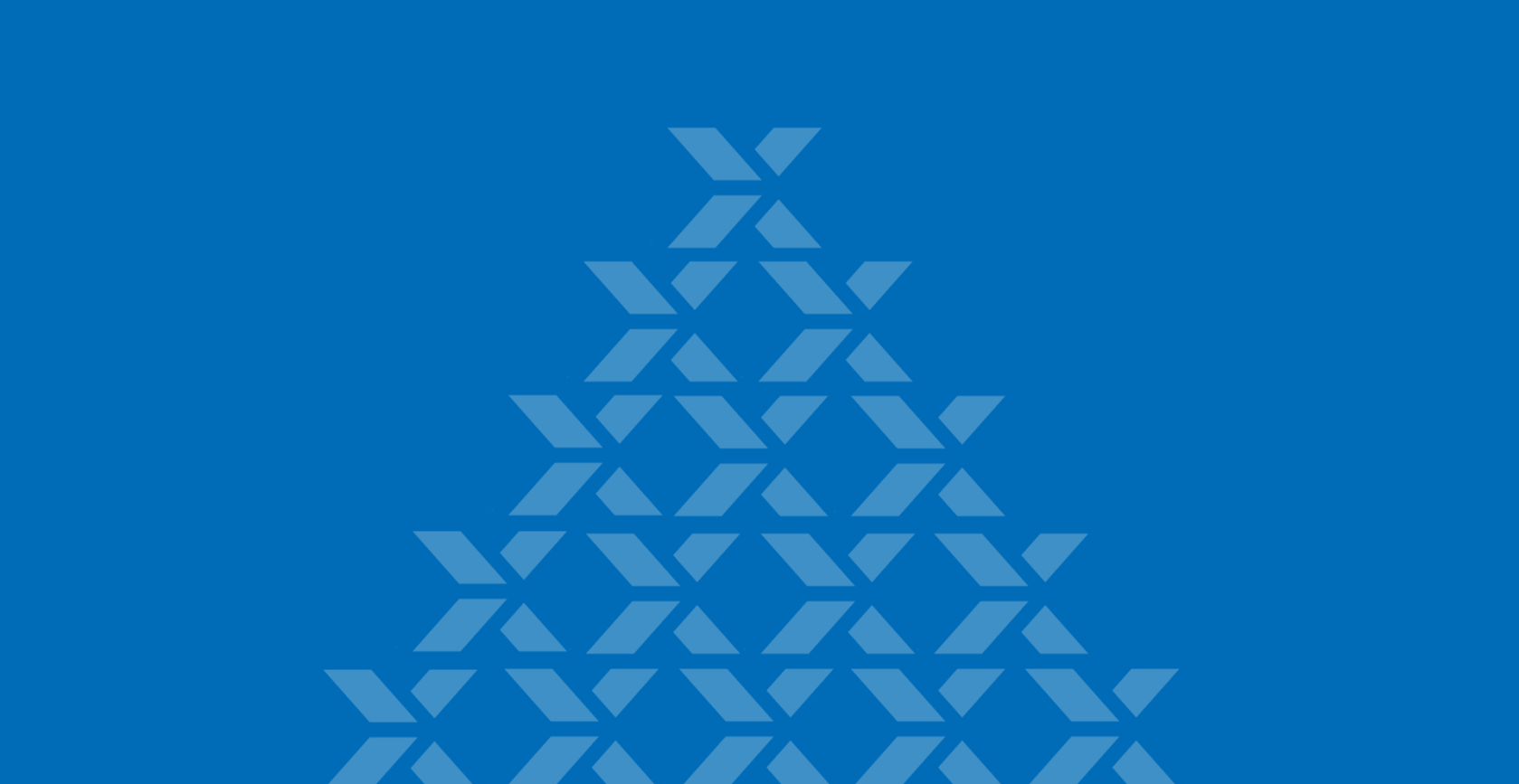 The industrial revolution brought important paradigm shifts in all aspects of manufacturing. Since then, the manufacturing industry has continued to develop ways for companies to increase the efficiency of their operations.
Integrating systems into operations
The vertical integration of the different layers of automation allows real-time data collection from the production floor, the different machines and the programmable logic controllers (PLC). This information is a treasure, who properly processed, provides strong added value for any company wishing to remain competitive.
Wherever your company is in terms of process integration and automation, the possibilities are endless. Integrating your systems together provides significant efficiency benefits.
By facilitating and accelerating the bi-directional exchange of data between layers 0 to 4 of automation, companies can better manage their operations.
The automation pyramid
This pyramid shows different levels of automation defined by the ANSI/ISA-95 standard.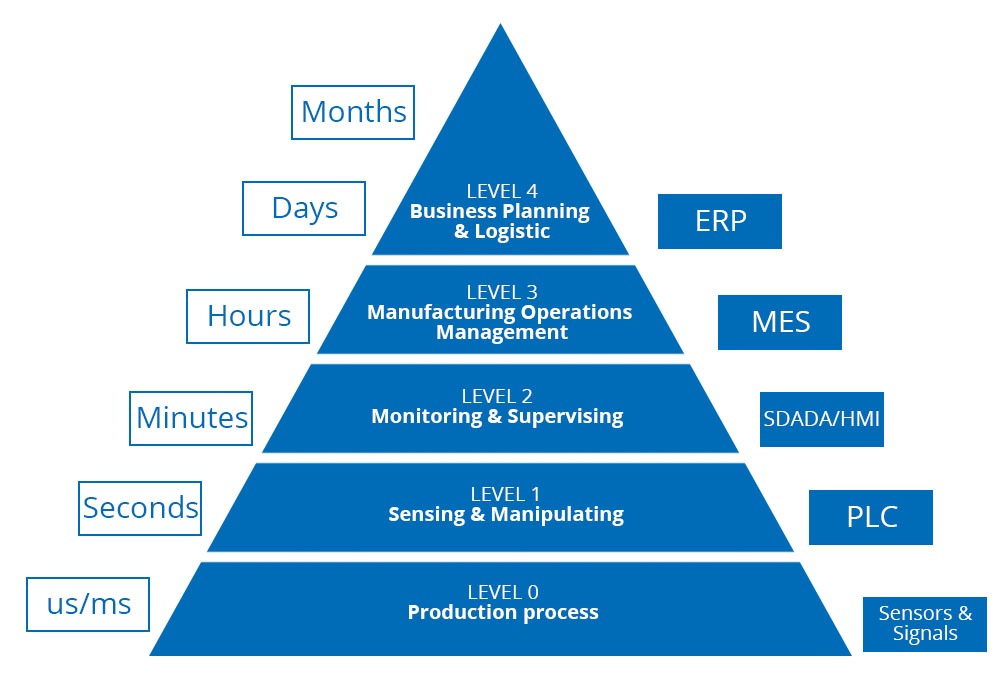 ISA-95 is the international standard for the integration of enterprise and control systems. It focuses on defining and integrating activities across systems to enable companies to gain a global perspective and make better decisions.
Let's look at each level of the automation pyramid together to learn how each fits into the day-to-day operations and the benefits to an organization of integrating its systems with each other.
Level 0: Production process
Even though it is at the bottom of the pyramid, level 0 is not necessarily the first step in automation. Rather, it is the level where the most data is found.
This level includes families of sensors and instruments, smart starters, and other devices providing multiple us/ms of real-time data. Constantly evolving, they provide increasingly accurate data.
More specifically, it is about engineering, installation, electrical connection, configuration and programming of:
Sensors, detectors, analyzers and intelligent instruments
RFID and barcode readers
Scanners and cameras (artificial vision)
Power quality measurement systems (PQM)
Smart starters, overload relays, variable frequency drives and motors
Valves and actuators with intelligent positioners
Industrial and collaborative robots
Weighing systems (scales), dosing systems, etc.
Fieldbus and real-time industrial networks (communication protocols, EtherNet/IP, Profinet, Modbus TCP, EtherCAT, HART, DNP3, IEC 61850, OPC UA and many others)
Properly used, the data from these "smart objects" become useful for purposes of energy consumption analysis, overall equipment efficiency (OEE) measurement, predictive and prescriptive maintenance, etc.
Level 1: Sensing & Manipulating
Engineering, installation, electrical connection, configuration and programming of:
Industrial controllers / programmable logic controllers (PLC)
Distributed Control Systems (DCS)
Safety Instrumented Systems (SIS)
These are sort of industrial computers.
Next-generation control systems are required in this industry 4.0 era for a plant to remain competitive and up-to-date. For example, new industrial controllers offer built-in artificial intelligence capabilities, based on neural networks, to perform predictive analysis.
Level 1 allows the aggregation of data. For example, the technologies and automates of level 1 integrated with a level 0 sensor allow the data from this sensor to be contextualized and be translated into meaningful information. On a production line, for example, level 1 allows to detect where there is a stop.
Level 2: Monitoring & Supervising
Engineering, installation, electrical connection, configuration and programming of:
Human-machine Interface (HMI)
Supervisory Control and Data Acquisition (SCADA)
Recent technologies, such as modern HMI and SCADA, allow the monitoring and control of an entire plant from anywhere using a laptop and/or mobile device. Control rooms with push buttons, indicator lights, dials, etc., are now replaced by much more visual interfaces.
| | |
| --- | --- |
| Before | Now |
| | |
Archiving several thousand pieces of data every second, or at a faster rate, makes it possible to display trend curves and analyze historical data. Real-time bi-directional data exchange with higher-level systems in the automation pyramid can be achieved via many recent technologies (SQL, REST API, XML, OPC UA, MQTT, etc.).
Level 3: Manufacturing Operations Management
Engineering, configuration and programming of:
Relational databases (such as Microsoft SQL Server, Oracle, etc.)
Production reports, environmental reports, event reports
Dashboards with key performance indicators (such as Excelpro's MIA application)
Recipe and batch managers (batching)
Manufacturing Execution System (MES)
Material handling and storage management
Quality management
Level 3 refers to everything related to industrial IT. It allows the digital transformation of manufacturing SMEs by eliminating numerous paper forms, Excel files and home-made computer applications.
The goal is to vertically integrate everything related to data collection and acquisition, production scheduling, staff management, resource management, product and batch tracking, product traceability and genealogy, quality control, process management, performance analysis, document management and maintenance management with all other levels of the automation pyramid.
Level 4: Business Planning & Logistics
Level 4 includes the integration of an enterprise resource planning system (ERP) with, for example, a supply chain management software (SCM) or a customer relationship management software (CRM). Level 4 focuses mainly on the integration of systems used for the management of the company.
In other words, vertically integrating an ERP system with the operational systems on the production floor provides a clear view of the health of operations in real time in order to help make effective decisions.
In summary
By analogy, we can consider that level 4 of automation, i.e. the IT layer that mainly affects the administrative aspects of the company, only represents the tip of the iceberg of the digital transformation of SMEs when it comes to production line efficiency.
The digital transformation associated to levels 0 to 3 of automation recalls the submerged part of the iceberg, which is considerably larger. Hence the pyramid-shaped representation of the ANSI/ISA-95 model: the base of the pyramid (level 0) is much larger than its top (level 4). Indeed, the quantity of data to be collected, filtered, compiled, processed and analyzed is really massive at the bottom of the pyramid, and gets lighter each time it goes up to the upper levels, thanks in particular to the synthesis and aggregation of the data happening at each level.
Systems integration is undoubtedly an avenue to follow for all companies wishing to reduce wasted time, to better understand why a situation occurs and to know when and where intervene. Ready to start integrating your systems? Contact our experts to find the right fit for you.