Biomethane plant at Rivière-du-Loup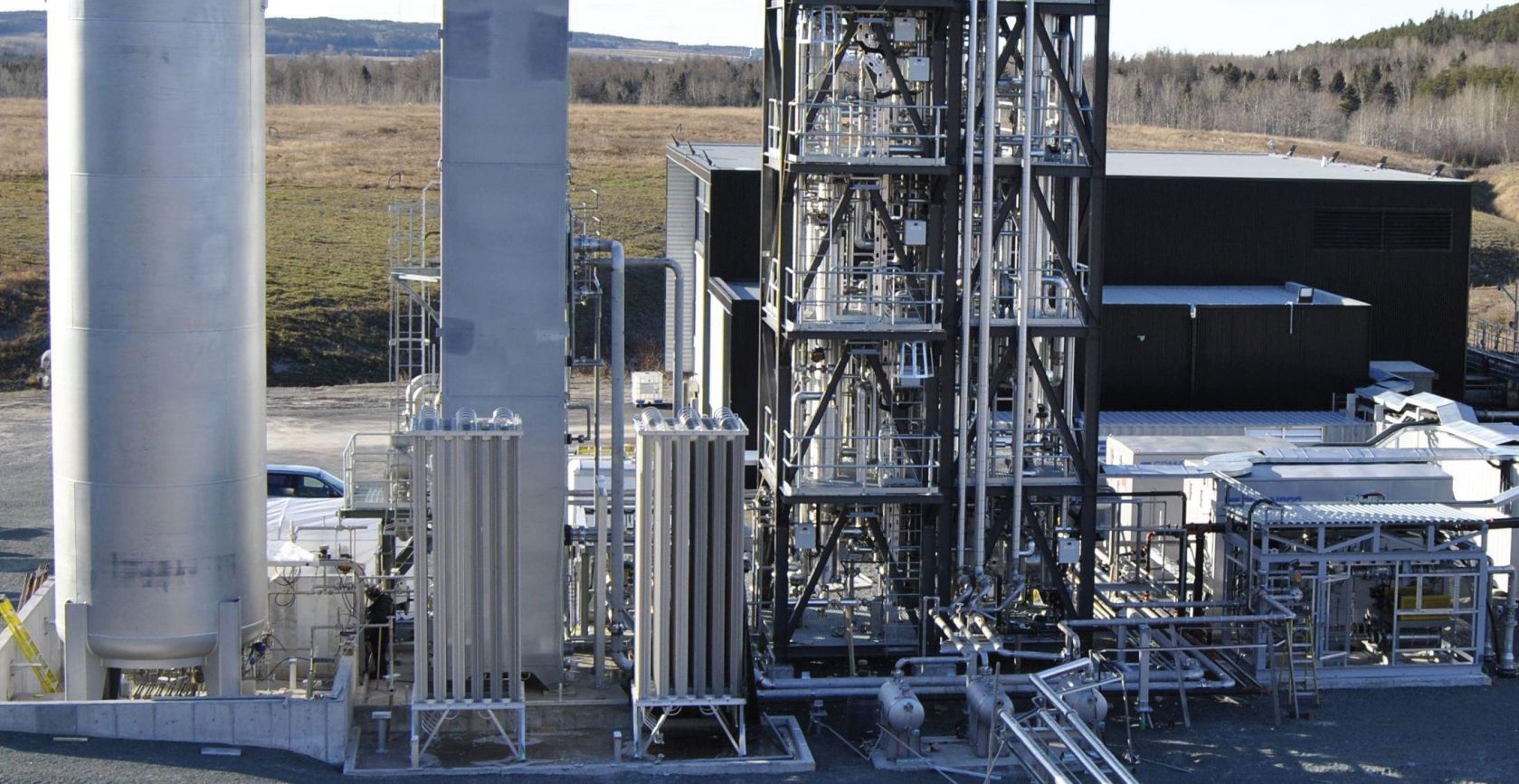 Rivière-du-Loup has recently acquired a biomethane plant costing approximately $30M.
Biomethane production is a natural process based on degradation of organic material by micro-organisms. In a biomethane production plant, the process is forced to take place under controlled conditions in the absence of oxygen. The products are digestates and biogas, both of which are economically valuable. The first goes to agricultural uses, the second for energy production in the form of compressed gas.
Summary
Market: Biomethane production
Location: Rivière-du-Loup
Construction: 2013-2016
Project type: Detailed engineering (electrical), control panel fabrication, engineering programming, DCS and SCADA programming
Scope of AIA Automation portion: $1M
DCS technology: PCS 7 (Siemens)
Process safety technology: AS 410 (Siemens)
SCADA technology: Process Historian (Siemens)
Others technologies : Intelligent starters and variable-frequency drives from Profibus DP, Profibus Instrumentation PA, and WEB OS browser
Project description
Rivière-du-Loup recently acquired a biomethane production plant at an approximate cost of 30M$. The gas produced is sold to Energir, who injects it into its distribution network. At full capacity, the Rivière-du-Loup plant will divert approximately 20,000 tons of biodegradable waste every year, coming from homes, factories, commercial and institutional sources, food processing plants, and slaughterhouses. 
Scope of the processes covered
This project covered a number of processes, including: 
Managing the receiving of organic materials.

 

Conditioning the raw material (crushing and mixing).

 

Anaerobic digestion.

 

Biogas capture and cleaning.

 

Biogas upgrading.

 

Integration of auxiliary equipment (oxidizer, flare, nitrogen generator, etc.).

 

Gas compression and storage.

 

Storage of digestate.

 

Mud extraction and storage.

 

Liquid storage.

 

Treatment and disposal of excess liquid (water treatment SKID).

 
Our contribution to this project
We contributed various engineering, fabrication, and programming services to this project, including: 
Detail engineering in preparation for control panel fabrication and instrument selection.

 

Fabrication of all control panels.

 

Programming engineering (preparation of functional descriptions, equipment specifications, control narrative).

 

Description of programming standards.

 

Pre-FAT, FAT,

Pre-operational verifications

 

and SAT documents.

 

Programming of the hybrid PCS 7 DCS (Siemens) and the AS 410 safety controller (Siemens).

 

Programming of operator station interfaces and configuration of the data historian.

 

Industrial network engineering.

 

Network deployment and start-up.

 

Shop testing of programming.

 

Pre-operational verification on-site.

 

Start-up 

and commissioning 

at the plant.

 

Production monitoring, optimization, documentation, and training.

 
Environment : Note that our design and implementation were performed in consideration of and in accordance with all standards applicable to hazardous locations.
Other major projects completed by our team in this market
2019-2021, St-Hyacinthe,

CTBM Plant: 

the

 

Montérégie

Biomass Treatment Plant (CTBM) was constructed by NEKSYS using Rockwell technology.

2021, Trois-Rivières,

WAGA Energy System (W

isconsin Plant): project implemented by NEKSYS using 

Siemens

 technology.
The secret of our success
We contribute to the success of your projects by providing a unique "one-stop shop" that offers a wide range of services working in perfect synergy. In a project context, such a range of synergistic services makes perfect sense. Our involvement means that you can reduce the number of intermediaries, simplify management, reduce costs, and keep on schedule. Moreover, we always keep in mind that our job is to make a difference, to bring added value, and thus to contribute to increasing the overall productivity of our clients. 
Projects
In business for more than 30 years, we specialize in automation and industrial electrical systems in a wide variety of manufacturing industries. We are well known for delivering quality products and services that conform to the standards and practices in each area of activity, respecting agreed-upon budgets, and keeping on schedule. The power of our group lies in the number and qualifications of its members, and the advantage of the group resides in the wide range of services offered by our professionals.